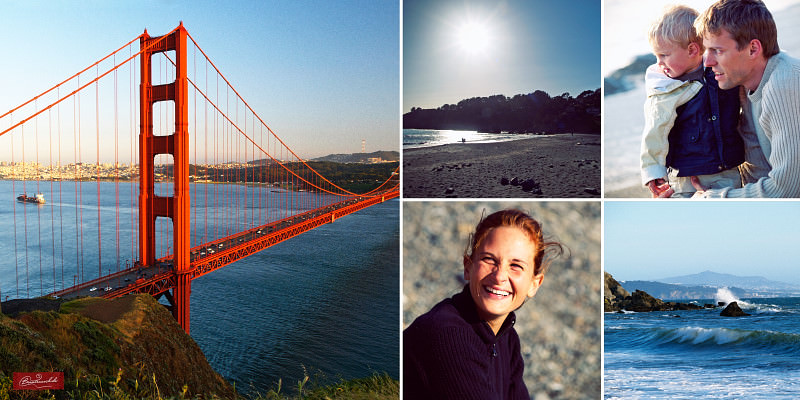 "A wedding in San Francisco" or "My first time as a wedding photographer"
Once upon a time, in April 2004...
No, this is not a fairy tale. But a few day ago I was sitting together with some colleagues and we were talkeing about our first weddings. And now I take the occasion to show you my very first one - the wedding of Nelly and André in April 2004 in San Francisco.

Wedding photography never was an issue for me until that day. Too much responsibility and pressure. The two are very dear friends and it wouldn't have been the first time that ruined wedding-photos had spoiled a friendship. So call it youthful recklessness, but I agreed to be their photographer and me and my wife Nina (our own wedding was only a few months before) took a flight to California.

Nelly, André and their little sunshine Noah had a little house in the hills of Berkeley, with wonderful views across the Bay and the Golden Gate Bridge. We had perfect weather. We had walks through Chinatown and the many hills of the City. We spent afternoons at Muir Beach and drank countless cups at Peet's Coffee. And we were with them on their way to the SFO City Hall when the limo got stuck in a traffic jam near the Bay Bridge. We were with the entire wedding party when they left the car to take on the train instead, where a californian lady helped the groom getting properly dressed. And of course we were there for Nelly's and André's "Yes" in the wonderful City Hall of San Francisco.

A dream for wedding photojournalism!
If I had already known what wedding photojournalism was actually... ;-)

In Germany that sort of reportage style of wedding photography was largely unknown by then. So it was just luck that the photos became a bit more than the style that could be found in photographer's showcases for ages.
San Francisco proved to be crucial. Since then I LOVE wedding photography! :-)

Today I would have done many things differently and "better" from today's perspective. Technology and overall conditions have evolved, just like my pictures (as I hope). My equipment in 2004 was not that bad. You could work with it as long light was bright enough. But I had no backup equipment at all. Today that fact would bath me in cold sweat. And hey, I'm more of the relaxed type of a person. Flash during the ceremony? Well, my camera wasn't capable of high-ISO images in 2004 and having switched from the analogue world I simply wasn't used to available light photography. Today flash ist still fine - as long as you know what to do with it. And during the wedding day I often wish that people using flash in these quiet and solemn moments would be struck by lightning. ;-)
The style of photography hast changed too. Today "my" couples enjoy much more freedom in ideas and posing. The best scenes usually develop themselves. I also pay much more attention to catch all the "moments" of a wedding. And also the art work hast changed dramatically. Today I'm of course much more aware of what I'm doing. Better positioning and framing of people, making use of symmetrical forms, seeing light and shadows. Finally, the post... First I've photographed a lot directly in JPG - thanks to Olympus' sensational JPG-engine the output was really good. But today's RAW files simply offer greater possibilities for correction and post-processing. In the past I have also put lots of effort into excessive skin retouching, from today's point of view ruining many great shots that way. Less is more. That doesn't mean that today's pictures wouldn't be processed with lots of love though. ;-)